Southern Cross presented by Maxxis Tires - Coming March 2, 2024!
2024 Southern Cross registration opens on January 1, 2024!
In cooperation with the USDA Forest Service,


The 2023 Southern Cross will again be based out of the beautiful Montaluce Winery in Dahlonega, GA. As far as the course, expect mountainous terrain consisting of mostly gravel, with a grass section in the last half mile to the finish. The course is around 50 miles with two major, sustained climbs and two long, high speed descents. Total elevation gain is approximately 6200'.
For all the latest race news, join our Southern Cross Facebook page.
Schedule of Events
The address of the start/finish is:
Montaluce Winery
946 Via Montaluce,
Dahlonega, GA 30533
Please follow arrow signs to start/finish once you turn into the Montaluce property.
Friday March 3
12 noon - Camping areas open at Montaluce for setup
4:00 pm to 8:00 pm - Race number and t-shirt pickup (In big white tent near the pool at Montaluce - also the location of the Start/Finish)
Please Note: There is no race day registration for this event. All registrations or transfers must be completed by Monday February 27th.
If you have questions, changes, or need to speak with the Race Director, please email lisa@mountaingoatadventures.com directly before February 27th. This event has a lot of moving parts thus we will not be able to accommodate any changes on Saturday morning.
Saturday March 4
7:00 am - Parking lot opens
7:30 am to 9:30 am - Race number and t-shirt pickup
9:00 am - NOTE TIME!!! Drop bag cutoff - Drop bags will leave the venue promptly at 9:00 am...if you miss the cutoff you will need to carry your drop items or rely on the aid stations for fuel. Drop bags may be pre-packed in your own bags, or there will be ziploc bags and sharpies available at registration. If you pack them at home, gallon size ziplocs are fine. Please ensure your bottles do not leak as they make a mess in your bag and inside the transport bins. You may use TWO drop bags..one for the first pass through the aid station, and another for your second pass. Drop bags are self-service for 2023 and you must place your drop bag in the "DONE" bin as you exit the aid station each time, or it won't return till 6 pm.
10:00 am - 50 Mile Race Start (please line up in the corral where you expect to finish)
10:25 am - 30 Mile Junior Race Start
1 pm to 5 pm - Post-race meal at the finish line (Moes Boxed Lunches)
All racers must complete the entire course and be in by 5:30pm to have an official finish time. There will be time cutoffs at the aid stations to ensure you can make it back by 5:30pm.
Awards will be presented near the finish line when the top 5 finishers in each class have crossed the finish line. Approximate timing for awards will likely be 2:30 pm but this may change based on finish times.
Entry Fees
All 50 Mile Riders
$100 until 1/31/23
$110 until 2/15/23
$120 after 2/15/23
No Race Day Registration
All 30 Mile Junior Riders
$80 until 1/31/23
$90 until 2/15/23
$100 after 2/15/23
No Race Day Registration
The online registration fee is an additional $4 per entry.
Please note, this race sold out by January 15th last year so please register early.
No separate registration or fees required for Junior chaperones - if chaperones want to order a meal and/or event shirt, please email lisa@mountaingoatadventures.com directly before February 17th. Meals are $12 and Shirts are $20.
Feb 17 is the deadline to guarantee your shirt size in the RACE design. Late registrants may receive a Mountain Goat Logo shirt for registrations after Feb 17th.
Your entry fee for the Southern Cross bike race includes:
-1 race entry on a killer course that will challenge you physically, mentally, and possibly emotionally (You're welcome!)
-1 premium soft and comfy race t-shirt that you'll actually want to wear
-Swag item for showing up/finishing
-Free On-site Primitive Camping
-Fully stocked aid station with calories, fluids, first aid, mechanical support, hecklers and warm hugs
-Post-race Moe's Lunch and Terrapin beer for those over 21!
-Transport of up to TWO gallon sized ziploc bags to the aid station (ziploc bags provided at race-number pickup)
-Clearly marked course with course marshals and "wrong way" indicators at confusing intersections.
-Priceless memories of your race, especially if the weather or your preparation is less than ideal. No extra charge for character building!
On-line registration will close on February 27th or sooner if the event fills up. There is no race-day registration for this event.
The 2023 Southern Cross has sold out! Thanks to all who registered!
Bike Shop Support
The closest bike shop is Nimblewheels Bicycles in downtown Dahlonega, GA. If you are coming to the race and need mechanical assistance on Friday, they will be available to help at their shop - please call and give them a heads up if you have a more complicated issue so they can ensure they have the right parts, etc. They will also be at the Winding Stair Gap Aid Station on Saturday during the race to offer neutral mechanical support.
Nimblewheels Bicycles
582 North Grove St., Suite A
DAHLONEGA, Georgia 30533
706-973-1249
Sunday and Monday Closed
Tuesday through Friday 10:00 am - 6:00 pm
Saturday 10:00 am - 4:00 pm
If you are staying in the Ellijay area, Cartecay Bike Shop is your nearest shop.
Cartecay Bike Shop
493 North Main Street
Ellijay, Georgia 30540
706-635-2453
Tuesday Closed, 11:00 am - 5:00 pm Mon, Wed, Thurs, Fri, Sun
Saturday 10:00 am - 5:00 pm
Categories
This event includes a 30 mile race option for Junior riders under 18. Juniors who wish to do the 50 mile course may register in the Male Under 30/Female Under 40 or Open Male/Female categories.
Male Open All Ages (this is the mens "money" class)
Male Under 30
Masters Male 30-39
Masters Male 40-49
Grand Masters Male 50-59
Vintage Male 60+
Female Open All Ages (this is the womens "money" class)
Female Under 40
Female Masters 40-49
Female Masters 50-59
Female Masters 60+
Clydesdale Open (over 200 lbs)
Single Speed Open (any gender)
Junior Male 15-18 (30 Mile Race)
Junior Male 14 and Under (30 Mile Race)
Junior Female 15-18 (30 Mile Race)
Junior Female 14 and Under (30 Mile Race)
Please note that the Expert/Open Men and Expert/Open Women are the "money" classes at this event. You need to be registered in one of those categories at the start of the race to compete for the cash prizes. If you are currently in a different category and would like to switch to the open class, please email lisa@mountaingoatadventures.com sooner rather than later.
Additional Meals and Event Shirts
Extra meals and event shirts for spectators need to be purchased in advance - Meals are $12 and Shirts are $20 - please email lisa@mountaingoatadventures.com to order. No on-site meal purchases.
Southern Cross Bike Race Operational Changes for COVID-19 (Updated 12/1/22)
• Health screening questionnaire for all event volunteers and staff per CDC recommendations. Participation for those recently testing positive for COVID-19 based on current CDC quarantine recommendations.
• Masks are not required for any aspects of this event, as all activities are outdoors.
• Registration and check-in stations will still be spread out to ensure 6' spacing. Waivers should be printed and signed at home and brought to the race. Hand sanitizer available under the tent for event staff and participants checking in.
• Post-race meal will be a boxed lunch to reduce contact and minimize time standing in line under the tent.
• Some participants/volunteers may choose to wear a mask or maybe they just want to maintain some personal space. Please be respectful and continue to practice social distancing with those individuals.
• Condensed pre-race group meeting. A participant Update will be emailed to participants ahead of time, which goes over all details of the event.
* Aid Stations will offer mainly pre-packaged snacks and drop bags are still self-service. Aid station crews will pour water into bottles from pitchers but will not touch your bottles/gear. Hand sanitizer will be available at the aid stations.
• As of right now, we are hoping to do one mass start for the 50 mile and a separate mass start for the 30 mile junior race.
• Results will be posted at mgaresults.com so that participants can view the results immediately via phone and via tablets at a results station we will set up.
• Portable Restrooms and handwash stations will be available at start/finish area.
• Awards will be held in a large outdoor open area.
Free On-Site Camping and Area Lodging Options
There is free, onsite primitive camping available at Montaluce Winery on Friday and Saturday night. If you plan to camp, you MUST RESERVE YOUR SPOT by emailing lisa@mountaingoatadventures.com no later than February 27th. Please include the type of camping unit...RV, Sprinter, Tent or Sleeping in car/SUV, so we can ensure we have space for you. No ground fires are allowed so bring a camp stove if you plan to cook. NOTE THIS IS PRIMITIVE CAMPING - THERE IS NO WATER, ELECTRICITY, or OTHER HOOKUPS. THERE WILL BE PORTA-POTTIES ON SITE.
Those camping in a tent or sleeping in their car will be able to camp in a nice, level grass field along the Etowah River. This is about 3/4 of a mile from the start/finish. Due to space constraints, no trailers or anything larger than a sprinter van will be allowed in this area. Those camping in smaller RV's or pop-ups will be able to set up in one of the cul-de-sacs near the start/finish, also a mostly level area with plenty of room to spread out, as well as a porta-potty. If you have a large travel trailer or Class A rig, you will likely need to camp in our overflow area, which can accomodate longer vehicles. We will utitlize the same camping setup that was used in prior years.
The closest campground with amenities is Etowah River Campground: 706-864-9035. Etowah River Campground is 2 miles from the race venue on quiet, back roads. There is also free primitive camping within the National Forest.
For those looking for lodging in Dahlonega, the closest lodging is the Mountain Top Lodge: 706-864-5257. The Mountain Top Lodge is 4.8 miles from the race venue and offers a Bed and Breakfast atmosphere. Rooms range from $109 to $175 depending on amenities. Please note they do not allow pets or children under 10. This is a small, quiet establishment with only 12 rooms so book early. Please let them know you are with the Southern Cross Mountain Bike Race. You can ride to the race venue from here via quiet country roads.
The Holiday Inn Express is one of the nicer hotels in town and offers standard hotel rooms with breakfast: 706-867-7777.
If you have a group coming, you can check websites such as AirBnb and VRBO for rental houses by searching "Dahlonega, GA". There are four villas available for rent on the Montaluce Property for larger groups.
Dahlonega Hideaway Havens offers 5 nearby cabin rental options.
For other lodging options including B&Bs and hotels see dahlonega.org
T-shirts, Swag, and Finisher Awards
All racers will receive a super comfy cotton tri blend tee. The shirts are soft, lightweight and are likely soon to be your favorite. We will be offering both men's and ladies cuts on the shirts. The ladies shirts are narrower/fitted, and slightly longer. Unisex/Men's shirts fit true to size, order up if you want a relaxed fit. Please register by the February 17 shirt size deadline to guarantee your size, especially if you would like a ladies shirt. We will also be ordering a finisher award for everyone who completes the course!
Last Year's Shirt Design and Color: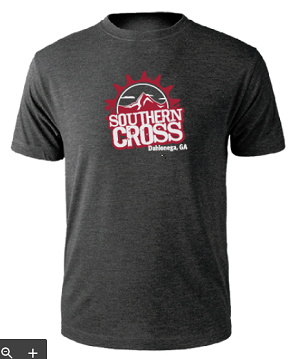 Last Year's Finisher Awards: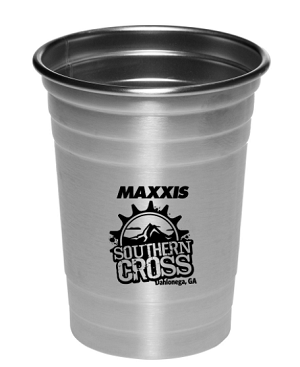 Payout and Podium Awards
Guaranteed Payout for Top 5 Overall Open Men and Open Women will be $250/$200/$150/$100/$100
$100 for the first place finisher in each of the "Non-Money" 50 mile categories!
All other podium finishers will receive awards and prizes from the race sponsors.
Aid Station Details
You will have 2 aid station opportunities - it is a single Aid Station that you will pass by twice. The aid station will be at the top of Winding Stair Gap at the FS 77/FS 42/FS 58 intersection. Aid Station will have water, Torq Energy Drink, Torq Gels, bananas and a variety of pre-packaged snacks. Basic first aid supplies and mechanical support are also available at the Aid Station.
While we always have PLENTY of fluids and snacks at the aid stations, you can send up to TWO gallon-sized drop bags out to the aid station. Bring your own or we will have ziplocs that you can label and use. We recommend one bag for the first pass through the aid station, and another for your second pass, which will be nearby, but in a slightly different location than the first pass. Drop bags are self-service and you must place your drop bag in the "DONE" bin as you exit the aid station each time. Drop bags will not be moved by volunteers during the race, so be sure to send two bags if you want supplies on both passes through the aid station.
Cancellations and Transfers
Please note EVENT ENTRIES ARE NON-REFUNDABLE once you register, as we plan for your attendance by purchasing your race shirt and swag, meals, insurance, etc and most other costs associated with your entry need to be paid up front. No refunds will be given in the event of an act of God or event beyond the control of the Race Organization (i.e. new COVID regulations) that requires cancellation of the race for the saftey of participants. If the event is rescheduled all entries will be transferred to the reschedule date.
We do, however, understand that injuries happen, you got sick or life was just too chaotic to train for one of our events so we have a no-penalty transfer policy. You may transfer your entry to another racer in the SAME EVENT without penalty until February 27, 2023. You are responsible for finding a person interested in buying your entry and working out payment with them. Entries do not transfer to other events nor do they transfer year to year. If you would like to sell your entry to another racer, please contact lisa@mountaingoatadventures.com with the name and email of the person you wish to transfer your entry to no later than February 27th. If the event sells out and you plan to buy an entry from someone, ALWAYS CONFIRM with me first that the person actually has a legit entry if you do not know them. Scammers have unfortunately been hitting events claiming they have entries or "tickets" when they actually do not.
The race will run rain or shine, however, the Race Director reserves the right to cancel or modify segments of the event as deemed necessary for participant safety. Once the race has started, no refunds will be given due to delayed start or early conclusion of the race.