Conasauga Crusher Gravel Grind
NOTE - THIS EVENT HAS BEEN POSTPONED UNTIL 2021
In cooperation with the USDA Forest Service, permit pending.


The 2020 Conasauga Crusher Gravel Grind will be based out of the Ocoee Retreat Center in Ocoee, TN. As far as the course, expect mostly rolling gravel with one sustained 3 mile climb and a few mile long climbs. The course is approximately 52 miles with 6000'+ of elevation gain.
The Conasauga Crusher is a make up race/eligible race for the Chainbuster Terrapin Southeastern Gravel Series!

We are excited to announce that we are teaming up with Chainbuster Racing to make the 2019 Conasauga Crusher Gravel Grind part of the Terrapin Southeastern Gravel Series!
The 2020 Terrapin Southeastern Gravel Series features seven Ultra-X gravel races in Georgia and Alabama. Each race has a different style course with unique character and challenges that will require a well rounded racer to take home the series title and Chain Buster hardware. To compete for series prizes, racers must enter 5 races in a single season. Points-series results are calculated based on a racer's 5 best finishes from all Ultra-X races. The Terrapin SGS Series ends with prizes and raffles at the Conasauga Crusher Race in November.
Schedule of Events
Ocoee Retreat Center
150 Hawkins Drive
Ocoee, Tennessee 37361.
Please follow arrow signs to Registration and Parking once you turn into the property on Saturday morning.
Friday November 20
4:00 pm to 7:00 pm - Optional race number and t-shirt pickup
Ocoee Retreat Center Outpost Building (start/finish location)
Please Note: There is no day-of registration for this event. All registrations or transfers must be completed by midnight on Wednesday November 18th. If you have questions, changes, or need to speak with the Race Director, please email lisa@mountaingoatadventures.com directly before November 18th. We will not be able to accommodate any changes on Saturday morning.
Mandatory pre-race briefing to racers on Saturday morning at 9:30 am near the Start/Finish. You are responsible for knowing all information given in the pre-race meeting even if you do not attend.
Saturday November 21
7:00 am - Parking area opens
7:30 am to 9:30 am - Race number and t-shirt pickup
9:00 am - NOTE TIME!!! Drop bag cutoff...if you miss the cutoff you will need to carry your drop items or rely on the aid stations for fuel. Drop bags may be pre-packed in your own bags, or there will be ziploc bags and sharpies available at registration. If you pack them at home, gallon size ziplocs are fine.
10:00 am - Race start with neutral-ish rollout
1:30 pm to 5 pm - Post-race meal at the Dining Hall of Ocoee Retreat Center. If you finish after 5 pm, meals will be packaged in to-go containers and available near finish.
All racers must complete the entire course and be in by 5 pm to have an official finish time. There will be time cutoffs at the aid stations to ensure you can make it back by 5 pm.
Awards will be presented near the finish line when the top 3-5 finishers in each class have crossed the finish line. Approximate timing for awards will likely be 2 pm but this may change.
Lodging - Book your bed at Ocoee Retreat Center Now!
A limited number of beds are available in bunkhouse style lodging at Ocoee Retreat Center for $25 per night (available Friday/Saturday nights). These are available first come-first serve and you can call 423-338-9575 to reserve a spot. Please specify if you wish to be placed in an all men, all women, or family bunkhouse. All lodging is booked directly through Ocoee Retreat Center. We highly recommend booking a bunkhouse at Ocoee Retreat Center as there is very limited nearby lodging in this area.
T-shirts, Swag, and Finisher Awards
All racers will receive a cotton tri-blend tee. The shirts are soft, lightweight and super comfy. We will be offering both men's and ladies cuts on the shirts. The ladies shirts feature a crew neck and shorter sleeves, are narrower/fitted/generally smaller, and slightly longer. Unisex/Men's shirts fit true to size, order up if you want a relaxed fit. Please register by the November 9th shirt size deadline to guarantee your size, especially if you would like a ladies shirt. We will also be ordering finisher awards for everyone who completes the course.
2019 Shirt Design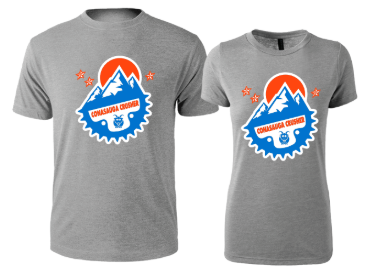 2019 Finisher Awards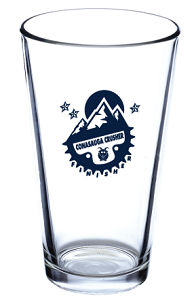 Categories
Male Open (this is the "money" class)
Masters 30-39
Masters 40-49
Grand Masters 50-59
Vintage 60+
Female Open (this is the "money" class)
Female Masters 40+
Clydesdale Open (over 200 lbs)
Single Speed Open
Tandem
Payout and Podium Awards
Payout for Top 3 Overall Open Men will be $200/$150/$100
Payout for Top 3 Overall Open Women will be $200/$150/$100
All other divisions will receive medals and prizes from the race sponsors.
Aid Stations
You can send one gallon-sized drop bag out to each aid station. Bring your own or we will have ziplocs that you can label and use. The better labeled it is with your race number, the quicker the volunteers can find your bag for you at the aid stations.
You will have 2 aid station opportunities: Mile 20 and Mile 38. The Aid Station will have water, Hammer Heed, bananas and a variety of snacks. Basic first aid supplies and mechanical support are also available at the Aid Stations.
Cancellations and Transfers
Please note EVENT ENTRIES ARE NON-REFUNDABLE once you register, as we plan for your attendance by purchasing your race shirt and swag, meals, insurance, etc and most other costs associated with your entry need to be paid up front. No refunds will be given in the event of an act of God or event beyond the control of the Race Organization that requires cancellation of the race for the saftey of participants. If the event is rescheduled all entries will be transferred to the reschedule date.
We do, however, understand that injuries happen, you got sick or life was just too chaotic to train for one of our events so we have a no-penalty transfer policy. You may transfer your entry to another racer in the SAME EVENT without penalty until Nov 16, 2020. You are responsible for finding the person interested in buying your entry and working out payment with them. Entries do not transfer to other events nor do they transfer year to year. If you would like to sell your entry to another racer, please contact lisa@mountaingoatadventures.com with the name and email of the person you wish to transfer your entry to no later than Nov 16.
The race will run rain or shine, however, the Race Director reserves the right to cancel or modify segments of the event as deemed necessary for participant safety or preservation of trail. Once the race has started, no refunds will be given due to delayed start or early conclusion of the race.