2021 Fool's Gold 38 and 60 Mile MTB Race - Coming Sept 11, 2021 - Registration opens June 15th!
In cooperation with the USDA Forest Service, Permit Pending


The 2021 Fool's Gold Mountain Bike Race will be returning to the beautiful Montaluce Winery in Dahlonega, GA. As far as the course, expect lots of fast & flowy singletrack, some amazing singletrack descents, a sprinkle of pavement, and two major sustained climbs.
For all the latest race news, join our Facebook page.
Schedule of Events
Montaluce Winery
946 Via Montaluce
Dahlonega, GA 30533
The race begins and ends at Montaluce Winery. Please follow arrow signs to race venue area once you turn into the Montaluce property.
Friday September 10
12 pm - Camp Area Setup Available
4:00 pm to 8:00 pm - Race number and t-shirt pickup at Big White Tent near Montaluce Pool - Use address above to main entrance, then follow signs to parking and registration once on property. Social distancing rules apply.
Please Note: There is no race-day registration or distance changes. All registrations, distance changes and transfers must be completed by September 6th at 8 pm - NO EXCEPTIONS THIS YEAR. If you have questions, changes, or need to speak with the Race Director, you will need to do so on Friday evening (or earlier via email - preferred). We will not be able to accommodate any changes on Saturday morning.
Saturday September 11
6:00 am - Parking lot opens
6:00 am to 7:30 am - Race number and t-shirt pickup. NOTE - ONLY pickup, NO DISTANCE CHANGES, NEW REGISTRATIONS OR TRANSFERS CAN BE ACCOMMODATED AT THIS TIME.
7:30 am - DROP BAG CUTOFF - Drop bags will leave the venue promptly at 7:30 am...if you miss the cutoff you will need to carry your drop items or rely on the aid stations for fuel. If you plan to check in on Saturday morning, I highly recommend showing up with your drop bags pre-packed so you don't miss getting them here on time. Gallon size ziplocs are fine, as are standard grocery bags - just ensure your bottles won't leak on everyone else's stuff. We will have ziploc bags for you to use.
7:40 am to 8:15 am - Staggered starts by distance and category - you will have an assigned start time. 60 mile categories will be released in earlier waves, 38 mile riders in later waves.
12:00 pm to 6 pm - Post-race meal available at the finish line. These are boxed lunches from Moe's this year to promote social distancing and avoid the need for you to stand in line.
All racers must complete either course and be in by 7 pm to have an official finish time. There will be time cutoffs at the aid stations to ensure you can make it back by 7 pm. This gives you 11 hours to finish the race.
Awards will be presented near the finish line when the top 5 finishers in each class have crossed the finish line. Approximate timing for awards will be around 1:30 pm for the 38 mile race and 2:30 pm for the 60 mile race.
Entry Fees
60 Mile Race
$95 until 7/31/21
$105 until 8/15/21
$115 after 8/15/21
38 Mile Race
$85 until 7/31/21
$95 until 8/15/21
$105 after 8/15/21
August 28 is the deadline to guarantee your shirt size in the RACE design. Late registrants may receive a Mountain Goat Logo shirt if we run out of race shirts.
The online registration fee is $4 per entry.
Your entry fee for the Fool's Gold bike race includes:
-1 race entry on a killer course that will challenge you physically, mentally, and possibly emotionally (You're welcome!)
-1 premium soft and comfy race t-shirt that you'll actually want to wear
-Finisher award
-Free On-site Primitive Camping
-Fully stocked aid stations with calories, fluids, first aid, and mechanical support.
-Post-race Moe's Bagged Lunch and Terrapin beer for those over 21!
-Transport of up to FOUR gallon sized ziploc bags to the aid stations (ziploc bags provided at race-number pickup)
-Clearly marked course with course marshals and "wrong way" indicators at confusing intersections.
-Priceless memories of your race, especially if the weather or your preparation is less than ideal. No extra charge for character building!
On-line registration will close on September 6 or sooner if the event fills up. There is no race-day registration for this event.
350 Rider Limit.
Mail in forms must be received by September 6th.
60 and 38 Mile Categories
Open Men (this is a "money" class)
0-29 Men
30-39 Men
40-49 Men
Master 50+
60+ Men
Open Women (this is a "money" class)
0-39 Women
40+ Women
Clydesdale Open (over 200 lbs)
Open Singlespeed
Top 3 Open Men in the 38 mile is: $150/100/100
Top 3 Open Women in the 38 mile is: $150/100/100
All other categories in the 38 mile will receive handcrafted awards for the top 3.
Top 5 Open Men in the 60 is: $250/200/150/100/100
Top 5 Open Women in the 60 is: $250/200/150/100/100
All other categories in the 60 mile will receive handcrafted awards and sponsor prizes for the top 3.
Please note that the Expert/Open Men and Expert/Open Women are the "money" classes at this event. You need to be registered in one of those categories at the start of the race to compete for the cash prizes. If you are currently in a different category and would like to switch to the open class, please email lisa@mountaingoatadventures.com sooner rather than later.
Additional Meals and Event Shirts
Extra meals and event shirts for spectators need to be purchased in advance - Meals are $12 and Shirts are $15 - please email lisa@mountaingoatadventures.com to order. No on-site meal purchases.
Mountain Goat Adventures Fool's Gold Operational Changes for COVID-19 (This could change or become more restrictive depending on CDC guidelines at time of race)
• Health screening questionnaire for all event volunteers and staff per CDC recommendations. No one that has tested positive in the past 14 days, has symptoms of being sick or a fever will be allowed to participate.
• All volunteers and race staff will wear a face covering while in the start/finish area, at event check-in, aid stations or within 6' of others. Hand sanitizer, disinfecting wipes and spray available in multiple areas near start/finish, check-in, and at aid stations.
• Registration and check-in stations will be spread out to ensure 6' minimum spacing and only one person may approach the check-in station at a time, with 6' minimum spacing for those standing in line. Participants will have the option of picking up race packet on Friday night to avoid Saturday morning check-in. Waivers should be printed and signed at home and brought to the race. Hand sanitizer available for event staff and participants checking in.
• Participants are required to wear a face covering to pick up their race number/shirt, their post race bagged lunch and any other time they are underneath our white tent/race headquarters. Check-in area and lunch pick up area will be spaced out to provide for social distancing per CDC recommendations.
• Waivers are to be printed at home and brought to the event, no community pens.
• Participants and any spectators will be encouraged to wear a face covering while at the event. Disposable masks will be available to those who do not have them. Participants who are not wearing a mask outdoors must stay 6' away from those not in their family/ride group.
• No pre-race group meeting. Pre-race meeting will be emailed to participants ahead of time. Any last minute communications will be printed out and posted so that participants can photograph with their phone and read elsewhere.
• No mass start – participants will be assigned a start time and must wait at their vehicle or warm up in a non-crowded area until 5 minutes before their start time. Groups of 20 riders max will be gridded on the road 6' apart and complete the course as a "time trial" so that participants are better spaced out on the roads. Large categories may have multiple start waves. Masks are recommended on the start grid.
• Participants are strongly encouraged to pack their own water and snacks in drop bags to minimize use of the on-course aid stations.
• Aid station on course will be staffed by masked and gloved individuals. A hands free bottle fill station will be available at aid station. Only pre-packaged snacks will be available at the aid stations. Hand sanitizer, disinfecting wipes and spray available at the aid stations.
• Post Race meal will be pre-made bagged lunches from Moes Dahlonega that will be handed out by race staff. No tables will be set up to eliminate close congregating post-race. Participants are encouraged to bring their own chairs/sun canopy so they can disperse post race.
• Results will be posted at mgaresults.com so that participants can view the results immediately via their own phone and do not have to congregate around results printouts.
• Maintain CDC recommended guidelines for social distancing and face covering usage while at event venue.
• Hand wash stations and restrooms available at start/finish area, restrooms available in camping areas.
• Social distanced awards in a large outdoor open area, face coverings recommended.
Free On-Site Camping and Area Lodging Options
There is free, onsite primitive camping available at Montaluce Winery on Friday and Saturday night. If you plan to camp, you MUST RESERVE YOUR SPOT by emailing lisa@mountaingoatadventures.com no later than Sept 6. Please include the type of camping unit...RV, Sprinter, Tent or Sleeping in car/SUV, so we can ensure we have space for you. No ground fires are allowed so bring a camp stove if you plan to cook. NOTE THIS IS PRIMITIVE CAMPING - THERE IS NO WATER, ELECTRICITY, or OTHER HOOKUPS. THERE WILL BE PORTA-POTTIES ON SITE.
Those camping in a tent or sleeping in their car will be able to camp in a nice, level grass field along the Etowah River. This is about 3/4 of a mile from the start/finish. Due to space constraints, no trailers or anything larger than a sprinter van will be allowed in this area. Those camping in small RV's or pop-ups will be able to set up in one of the cul-de-sacs near the start/finish, also a mostly level area with plenty of room to spread out, as well as a porta-potty. If you have a large travel trailer or Class A rig, you will likely need to camp in our overflow area, which can accomodate longer vehicles. We will utitlize the same camping setup that was used in prior years.
The closest campground with amenities is Etowah River Campground: 706-864-9035. Etowah River Campground is 2 miles from the race venue on quiet, back roads. There is also free primitive camping within the National Forest.
For those looking for lodging in Dahlonega, the closest lodging is the Mountain Top Lodge: 706-864-5257. The Mountain Top Lodge is 4.8 miles from the race venue and offers a Bed and Breakfast atmosphere. Rooms range from $109 to $175 depending on amenities. Please note they do not allow pets or children under 10. This is a small, quiet establishment with only 12 rooms so book early. Please let them know you are with the Fools Gold Mountain Bike Race. You can ride to the race venue from here via quiet country roads.
The Holiday Inn Express is one of the nicer hotels in town and offers standard hotel rooms with breakfast: 706-867-7777.
If you have a group coming, you can check websites such as AirBnb and VRBO for rental houses by searching "Dahlonega, GA". There are four villas available for rent on the Montaluce Property for larger groups.
Dahlonega Hideaway Havens offers 5 nearby cabin rental options.
For other lodging options including B&Bs and hotels see dahlonega.org
Bike Shop Support
The closest bike shop is Nimblewheels Bicycles in downtown Dahlonega, GA. If you are coming to the race and need mechanical assistance on Friday, they will be available to help at their shop - please call and give them a heads up if you have a more complicated issue so they can ensure they have the right parts, etc. They will also be at the Hightower Gap Aid Station on Saturday during the race to offer neutral mechanical support.
Nimblewheels Bicycles
582 North Grove St., Suite A
DAHLONEGA, Georgia 30533
706-973-1249
Sunday and Monday Closed
Tuesday through Friday 10:00 am - 6:00 pm
Saturday 10:00 am - 4:00 pm
T-shirts, Swag, and Finisher Awards
All racers will receive a super comfy cotton tri blend tee. The shirts are soft, lightweight and are likely soon to be your favorite. This year, we will be offering both men's and ladies cuts on the shirts. The ladies shirts are narrower/fitted, and slightly longer. Unisex/Men's shirts fit true to size, order up if you want a relaxed fit. Please register by the August 28 shirt size deadline to guarantee your size, especially if you would like a ladies shirt. You will receive a Mountain Goat Logo Shirt if you register late and we have run out of race specific shirts.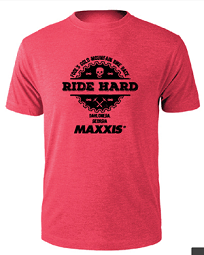 Last Year's Shirt and Finisher Pint Design


Aid Stations
38 mile race - You can send up to 3 gallon-sized drop bags out to the aid stations. (There are 2 aid station locations, 3 aid opportunities). Bring your own or we will have ziplocs that you can label and use. The better labeled it is with your race number, the quicker the volunteers can find your bag for you at the aid stations. If you just have bottles, they do not need to be bagged but ensure that they have your number on them and they do not leak. CUTOFF FOR DROP BAGS IS 7:30 AM ON SATURDAY MORNING - NO EXCEPTIONS!
60 mile race - You can send up to 4 gallon-sized drop bags out to the aid stations. (There are 3 aid station locations, 4 aid opportunities). Bring your own or we will have ziplocs that you can label and use. The better labeled it is with your race number, the quicker the volunteers can find your bag for you at the aid stations. If you just have bottles, they do not need to be bagged but ensure that they have your number on them and they do not leak. CUTOFF FOR DROP BAGS IS 7:30 AM ON SATURDAY MORNING - NO EXCEPTIONS!
If you ignore volunteer instructions and choose to continue up Bull Mountain after 3 pm, YOU WILL BE DISQUALIFIED AND YOU ARE ON YOUR OWN. The aid stations will be packed up by the time you reach them. Please be courteous to our aid station volunteers and race staff - our cutoffs are very generous given reasonable circumstances.
Cancellations and Transfers
No Transfers or category/distance changes after 9/6 - NO EXCEPTIONS.
Please note EVENT ENTRIES ARE NON-REFUNDABLE once you register, as we plan for your attendance by purchasing your race shirt and swag, meals, insurance, etc and most other costs associated with your entry need to be paid up front. No refunds will be given in the event of an act of God or event beyond the control of the Race Organization (i.e. new COVID regulations) that requires cancellation of the race for the saftey of participants. If the event is rescheduled all entries will be transferred to the reschedule date.
We do, however, understand that injuries happen, you got sick or life was just too chaotic to train for one of our events so we have a no-penalty transfer policy. You may transfer your entry to another racer in the SAME EVENT without penalty until September 6, 2021. You are responsible for finding a person interested in buying your entry and working out payment with them. Entries do not transfer to other events nor do they transfer year to year. If you would like to sell your entry to another racer, please contact lisa@mountaingoatadventures.com with the name and email of the person you wish to transfer your entry to no later than Sept 6. If the event sells out and you plan to buy an entry from someone, ALWAYS CONFIRM with me first that the person actually has a legit entry. Scammers have unfortunately been hitting events claiming they have entries or "tickets" when they actually do not.
The race will run rain or shine, however, the Race Director reserves the right to cancel or modify segments of the event as deemed necessary for participant safety or preservation of trail. Once the race has started, no refunds will be given due to delayed start or early conclusion of the race.